Fully Automatic Liquid Packaging Machine ZV-520L
>>Application

Fully automatic liquid packaging machine ZV-520L suitable for packing various kinds of liquid objects,such as oli, water, juice , milk, honey, soysauce, ketchup,Tomato sauce,etc.
>>Features

1、Products dosing, Filling, Laminate heat sealable pouch making and sealing.
2、Stainless steel 304 structure and surface
3、Weighing and Packaging PLC & HMI Control Integrated, More stable operation, Easy for parameter setting
4、Simple changing of pouch former, to adapt different pouch size requirement
5、Intelligent temperature controlling configuration, ensure the artistic and neat sealing
6、Configure with packaging film pre-pulling device, to enable stable pouch making
7、No film no filling, and easy to change the packaging film
>>Bag Type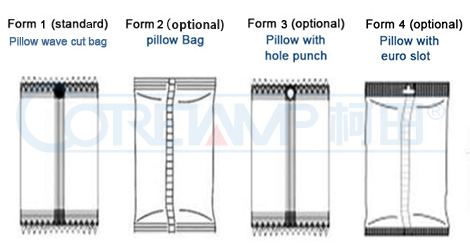 >>Working Process
The working processes include: The machine pull laminate packaging film to the pouch forming devices, and go through the vertical sealing plate, in the meanwhile, the dosing device dose the product into the pouch, then will do the horizontal sealing and cutting off. Above is the typical working process diagram.
>>Package material
BOPP/CPP/VMCPP,BOPP/PE,PET/VMPET,PE,PET/PE,etc.